TranScreen 2023 is officially over and what an amazing edition it was. First off, a massive congratulations to our Audience Award winners: I Am Not A Number: Alejandra ('Best Short Film') and Met Zonder Ballen ('Best Feature'). We have never had a Dutch production take home an award, so to have both winners be from the Netherlands, makes us a little extra proud of them. They recieved a statuette by artist Miss Tobi from Berlin.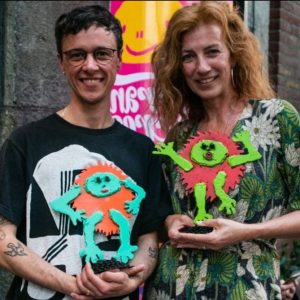 WINNER OF THE AUDIENCE AWARD FOR A FEATURE FILM
1st place: Met Zonder Ballen
2nd place: Blue ID
3rd place: Lotus Sport Club
WINNER OF THE AUDIENCE AWARD FOR A SHORT MOVIE
1st place: I am not a Number: Alejandra
2nd place: God's Daughter Dances
3rd place: I am not a Number: Mavi

It's amazing that you showed up in large numbers and voted for your favorites. Especially since this was our first physical festival since the pandemic's start, it was heartwarming to meet and catch up with you again. TranScreen is obviously a film festival but we feel that coming together, connecting, and experiencing that feeling of community is equally important. To be the norm, instead of the exception, just for a few days.
None of it would have been possible without the help of all our incredible volunteers, who've worked tirelessly to put together a fantastic festival. The organizing team, which also consists entirely of volunteers, has worked for the last two years to organize TranScreen 2023. It is very moving and encouraging to see you embrace the festival as well. We have so much love and gratitude for you, from the bottom of our gender-diverse hearts.
All we wanted to say is: thank you. Thank you for showing up, thank you for your support, thank you for helping out, thank you for being you. See you next time? We'll keep you posted!

the TranScreen team
Waarom een transgender filmfestival belangrijk is: Femke verteld. hierover bij Met Het Oog Op Morgen
NPO Radio 1 News: Selm talks about TranScreen (minute 55:40)
AT5: TranScreen filmfestival van start!