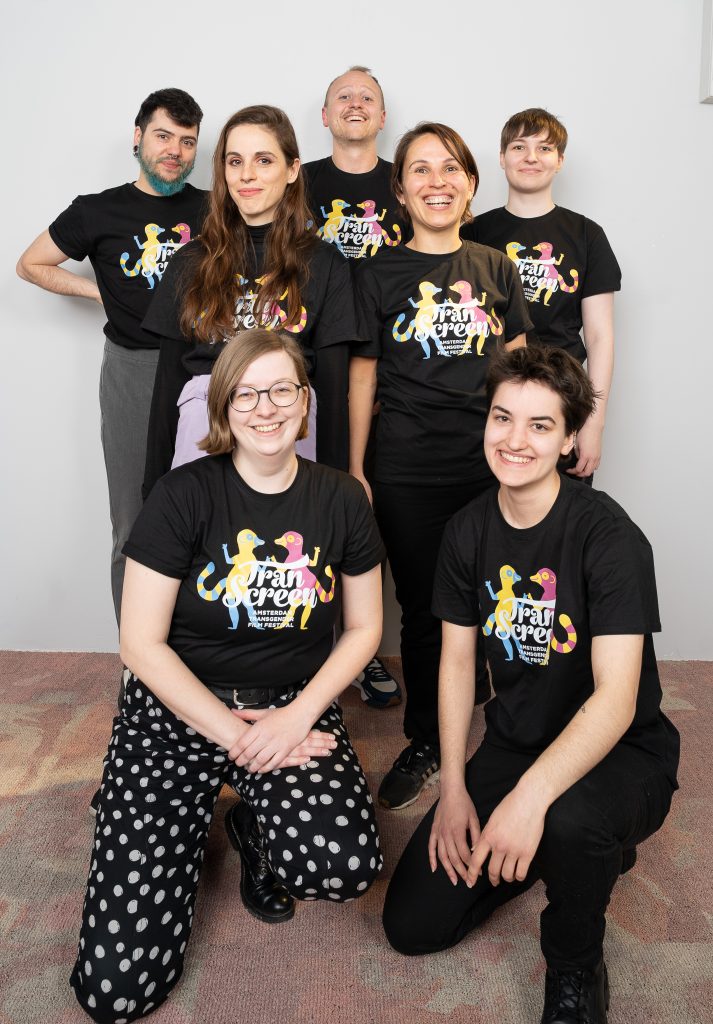 Femke (she/they) has studied Cultural Awareness and was involved in the organization of ViRUS, an annual cultural festival in Eindhoven where Femke was involved with the film programming and publicity. Femke organized movie nights in the AOR and theme nights at the Effenaar. Additionally, Femke worked as a volunteer at an animal shelter and gave Dutch lessons to asylum seekers. In 2006, Femke moved to Amsterdam to create an LGBT network at Amnesty. Femke has been involved with TranScreen since 2010 and the board of TransMotion Foundation.
Laura (she/her) has been part of the TranScreen team since early 2017. She studies Gender Studies at the Research Master at Utrecht University and has a BA in Media Studies, majoring in film and theater. Her fields of interest are Queer Theory and Trans Studies and she often writes about queerness, gender and asexualities. Laura is a senior fellow of Humanity in Action NL. She has also been involved in the development of the new Rainbow Canon of the Netherlands.
David (he/him) graduated with an MA in Film and Photographic Studies and has several years of working experience in various museums and cultural institutes. His main interest lies in themes of gender and sexuality in art and culture. In 2018 he was curator of the exhibition of the Antwerp Queer Arts Festival and since that same year he has been involved with TranScreen.
Ingrid (they/them) started at TranScreen in January 2020 as an intern and is now part of the organizing team. Their background is in Law, gender studies, and anti-incarceration advocacy. They worked in British high-security prison settings, as well as with marginalized young people, to support meaningful access to working and higher education opportunities. They believe in the importance of foregrounding anti-racist and de-colonial practices in any art or organization for social good.
Zinga (they/them) is this year's new edition to the TranScreen team. They study Cultural and Social Education and are an intern at Transgender Netwerk Nederland. They are also a volunteer at Trans Magazine and involved with getting inclusive toilets at their school (HvA). Zinga is an ambassador for genderpraatjes, a helpline for youth who might have gender related questions. Zinga finds it important to fight against racism and discrimination and to contribute to more visibility.
With eternal gratitude to: Lara, Jochem, Monica, Willemijn, Jiro, Boots, Dorien, Bilge, Anke, Jane, Vick, Erik, Alex, Mijke, Mikki, Eeée, Ben, Miss Tobi, Samuel, Plette, Karola, Maik, Lae, Gabriël, Alejandra, Hannah, Anke, the Gingerteam, all TransHands and board of Foundation TransMotion.

Het Bestuur van Stichting Transmotion